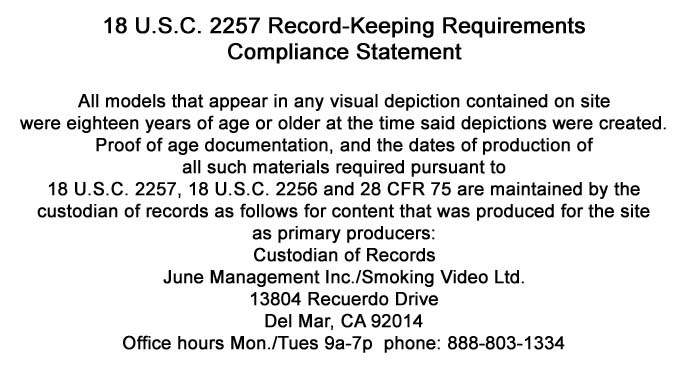 MEMBER OF:



This site also contains sexually explicit images that were produced and provided by third parties. The owner of this site is not the primary producer of this content. Pursuant to the legal decision in Sundance Associates, Inc. v. Reno, C.A.10 (Colo.) 1998, 139 F.3d 804, and the preliminary injunction issued December 28, 2005 in the United States District Court of Colorado in Free Speech Coalition, et al. v. Alberto Gonzales, all age identification documents are maintained by the respective custodian of records for the producers of said content. Custodians of Records for this material is as follows:

Smoking Erotica
Custodian of Records
3412 Renaissance Park Pl
Cary, NC 27513


Bob's Videos
Custodian of Records
46 Springer Lane
West Yarmouth MA

Smoking Models UK
Custodian of Records
13 Marlowe Gardens
Romford, Essex RM3 7PA
United Kingdom

Further details are available by contacting the webmaster.